Hello everyone,
Two months ago I started NF sessions in a Clinic in Spain to treat ADHD, chronic pain, BPD -emotional disregulation- sleep issues, depression -dysthymia and no motivation type, dissociation- and binge/emotional eating. Lot of things, yeah. But they are all connected. I tried almost everything meds avaiable, Ketamine treatment, psychedelics, etc. TMS and Neurofeedback were/are my lasts options and I wanted to try the less invasive so I opted for NF.
We did a QEEG that showed problems related of everything I have. Now I am close to my 20 session now and yes, I felt subtle changes some days in the past weeks -mostly less anxiety overall and less dissociation, feeling more like myself- but the process is really slow, not enough compared to the money and energy I am putting into it. Since two weeks I was also more irritable and angry, having issues with my partner due to this and now this lessened but I am more depressed, anxious and the chronic pain I feel in my body is more intense than ever before.
I am telling all of this to my practicioner but there is no change or anything that have improved yet.
Some people in a Fb group told me that working in SMR can worsen chronic pain for some people but I am not findind any paper or anything to show this to my practicioner. Other says that my protocol is too strong for me…
I add a photo of my protocol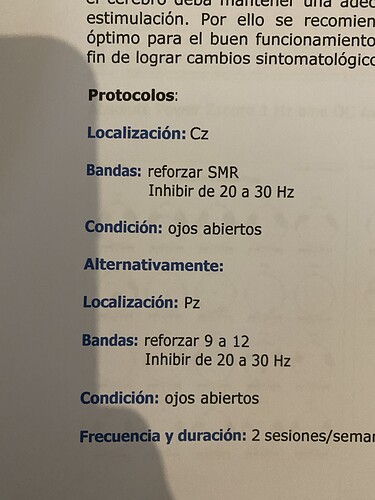 .
I am just a desperate patient in look for some answers.
Thank you in advance and sorry if this is not the place for this, I just don't know what to do